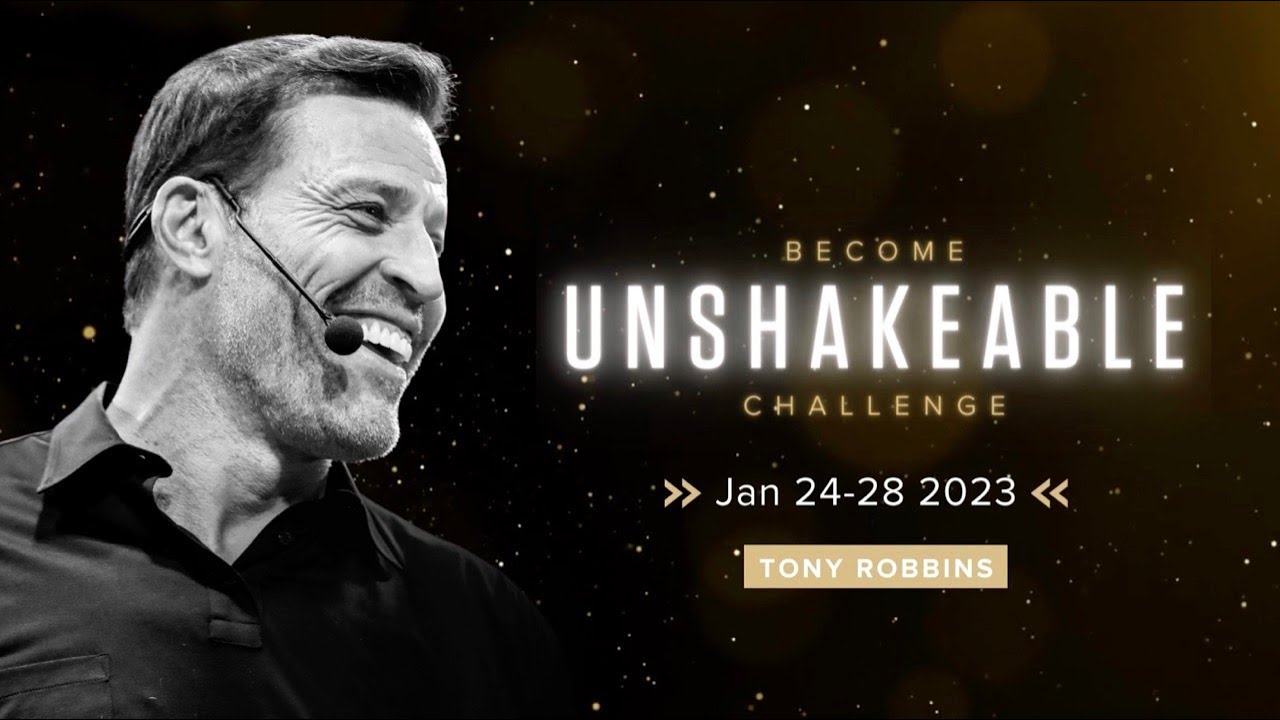 Tony Robbins - Become Unshakeable Challenge 2023
Don't Miss Your One Chance To Design Your 2023 Success Plan LIVE With Tony Robbins & Friends On January 24-28
In just 5 days, unlock Tony's roadmap for transforming uncertainty into opportunity and GROWTH. UNLEASH your potential and gain the skills and tools to thrive in 2023.
In the last two years, we've gone from dreaming about everything we would do when the pandemic ended to now, when many of us are feeling the squeeze of inflation, a looming recession and more uncertainty than ever. But what if it didn't have to be that way? What if you could shut out the chaos of the outside world and create inner peace and calm for yourself and your family? And what if, while the rest of the world is freaking out about every negative news story, you had the inner strength and the mindset tools to stay focused on what matters most in your life?
Join Tony Robbins and a roster of incredible special guests for the Become Unshakeable Challenge from January 24–28, 2023, and gain the insights you need to get that edge. Whether your goals this year are to build your business, protect your family's financial future, improve your health or just be happier overall, Tony will give you the tools and knowledge you need to move forward with confidence and calm.
Become Unshakeable Challenge Speakers
Tony Robbins
Tony Robbins, entrepreneur, best-selling author and expert life and business strategist, has spent his entire 44-year career obsessed with answering one question: What makes people successful? And he has discovered that success – in any area of life – is just patterns. Using the patterns that drive the most successful people on the planet and the patterns that resonate throughout our shared human history, Tony will be your guide through the upcoming recession. The January challenge with Tony Robbins will teach you to use these patterns not just to survive but to thrive.
Other Surprise Guests
Tony is bringing together some of the world's foremost experts in the areas of wealth and finances, relationships, business and more to give you insider access to information that most people have to pay thousands for.
Take action to create your plan to thrive in 2023:
Join the challenge every day at 11AM Pacific | 2PM Eastern to hear from Tony Robbins and other experts about creating a breakthrough in one major area of your life.
Each day, you'll be given a step to complete in order to take meaningful action in that area, stay accountable and build momentum.
Show up consistently. Play full out. Transform your mindset – and your life.
At The End Of These 5 Days…
You will create a PLAN for taking any of your 2023 goals and making them real
You will develop an UNSHAKEABLE MINDSET to conquer any obstacles that arise
You will know how to identify PATTERNS in your own life and USE them to create positive change.
​You will have a new NEXT-LEVEL PEER GROUP to hold you accountable for the progress you want to make in your life.
When You Join Tony's Become Unshakeable Challenge Right Now At No Charge You'll Get:
5 days of LIVE training with with Tony Robbins and other world-class experts who will give you the knowledge and strategies you need to make massive progress in 2023.
Access to the private challenge Tony Robbins group, created for those who want MORE out of life.
​ The clarity and confidence you need to IGNITE your inner strength, take your life to the NEXT LEVEL and become truly unshakeable.
Plus, when you go all-in, you could win daily prizes like:
Tickets to Tony's most popular events, including Life Mastery, Unleash the Power Within and Business Mastery.
Limited-edition merchandise and a signed copy of Tony's latest book, Life Force.
Membership in the Inner Circle, where you'll receive complimentary monthly Results Coaching and live training with Tony three times per year.
The grand prize: an all-inclusive five-day trip for two to the award-winning Namale Resort & Spa in Fiji.
Turn your resolutions into lasting change.
January is traditionally a time for new beginnings. We resolve to get healthy, advance our careers or learn a new skill. Our resolutions are sincere – so why don't we keep them? The truth is that these one-off resolutions don't inspire us with a deeper meaning. We resolve to change our behaviors when what we really need to do is change our mindset. We want instant results, but building new habits takes time and commitment.
The January challenge with Tony Robbins is designed to TRANSFORM your mindset. You'll learn how to turn resolutions into real, long-term GOALS, how to connect those goals back to your deeper purpose and how to make a dedicated plan to achieve them.
A training this powerful, this comprehensive and this life-changing would normally cost thousands of dollars — but Tony is giving it to you at no cost this January because he knows it's needed now more than ever. Get 5 days of live training with Tony Robbins worth over $1,000.
If this Author or Course helped you improve your life. It is really worth it if you go and buy his/her course. Get feedback, support and help by his/her community. The Author support is much more valuable than the course itself.

If our Site

helped you

as well. A small Donation is greatly appreciated.