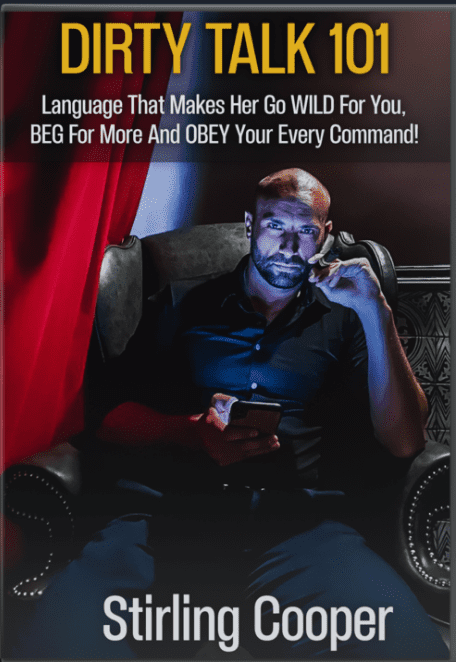 Stirling Cooper-Dirty Talk 101
Dirty Talk 101 – My Brand-New Course On Transforming Women to Your Bedroom Plaything (Giving Her Mind-Blowing Experiences, Orgasms & Memories to Look Back On)!
So YOU wanna be that guy who gets her off every night?
Who she comes back to, over and over to get that good good?
And who she blushes over, and tells all her girlfriends about?
GOOD. So did I!
That's exactly why I decided to throw everything I know into a single course, which you can review in just a few hours…
… to drastically level up your dirty talk game – before, during, and even after your bedroom encounters!
I'm calling it Dirty Talk 101 – my brand new course on turning a woman on through the spoken word, reliably and consistently!
I can guarantee you there's nothing like this on the market – that matches the rawness, truth, and effectiveness of this material.
It consists of things you'll be saying to her:
– BEFORE you sleep with her, when you're courting her,
– DURING your time in bed with her, as you give her mind-bending orgasms, and
– AFTER your experiences, so you install proven dirty talk frameworks, mental imagery, and specific examples to pull from in the future.
Here's A Breakdown Of Exactly
What's Inside 'Dirty Talk 101':
My course is made up of four powerful modules that'll take you from "wait, why do I need dirty talk, again?" to "DAMN, Stir – my girlfriends won't stop begging me to whisper somethin' nasty to 'em!"
Module 1 – The Power of Dirty Talk & Why You Need It:
If you're new to this concept and habit, this module will share every reason why dirty talk is like crack cocaine for chicks.
We establish the two main reasons you need it – and how to start implementing it slowly – to retain chicks you sleep with, in a solid rotation (if you choose).
Module 2 – Perfecting Your Dirty Talk Delivery
Ever felt like you'd come across creepy if you tried this shit?
Well, so has every guy!
In this module, I'll share with you *normal* ways to start using dirty talk in your bedroom sessions, and how to remain congruent, confident, and sexy.
Module 3 – Dirty Talk & Framing Before The Bedroom
I'm peeling back the curtain on my toolbox for getting her framed, ready, and excited to meet up with you – using subtle, unique, and suggestive talk before you meet her.
I'll reveal again, how to do it in a non-creepy, non-needy, sexual, and masculine way. This sets the interaction up in your favor, as you lead and control the way to her fantasies.
Module 4 – Specific Dirty Talk Frameworks & Examples
Mate, what's a course from a sex pro without examples, huh?
I show you specific frameworks for getting what you want, and sharing the dirtiest ideas in your head – in a way that lights up her emotional and sexual pleasure centers!
Things you've probably never even experimented with, like:
– SENSATIONS,
– IMAGINATION,
– COMMANDING,
– OWNERSHIP, and
– DEGRADATION,
… plus much more I'll explain inside – that'll pull this entire course together for you!
If this Author or Course helped you improve your life. It is really worth it if you go and buy his/her course. Get feedback, support and help by his/her community. The Author support is much more valuable than the course itself.

If our Site

helped you

as well. A small Donation is greatly appreciated.