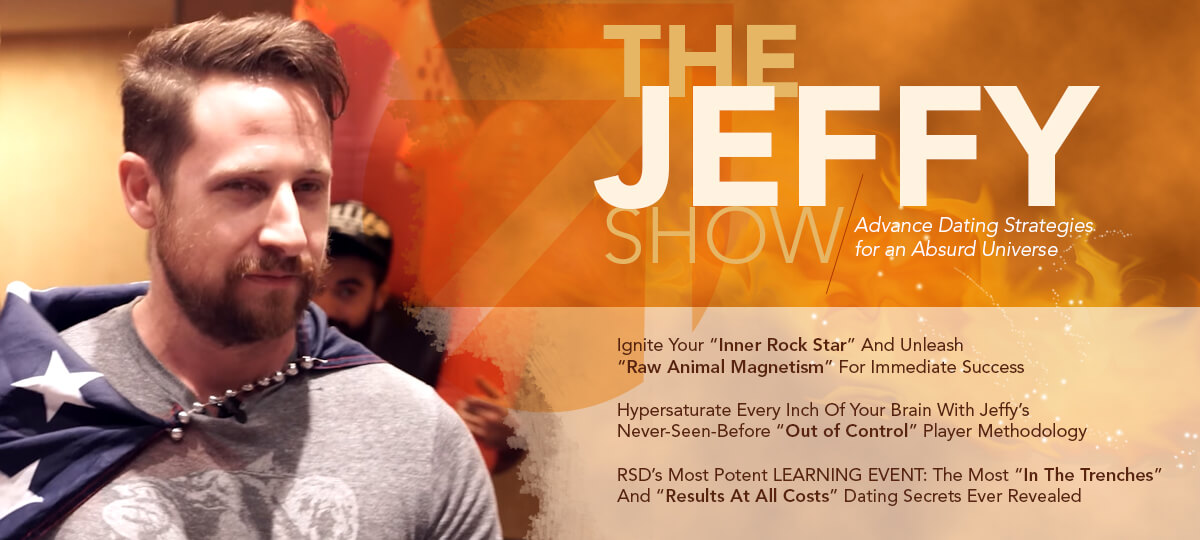 Jeffy Finally Cracks Open The Vault…
And Reveals To You 5+ Years Worth Of
"In House" RSD Secrets, Hyper-Advanced Techniques, And His PERSONAL "Master Formula" For Skyrocketing Your Success In Life To The EXTREME
Are You Ready To "Cut The Crap" And Propel Yourself To A Carnival
Of Abundance This Year And Every Year For The Rest Of Your Life???  Prepare Yourself.  - Just One "Hit" From Jeffy's Repertoire Will WIPE The Floor With You
FROM TYLER:
Hi there…
Tyler here (YES the "real" Tyler, I don't allow my name to be used on anything that I didn't personally write), and I've got a quick question for you… 🙂
Have you ever thought about what it would be like to just "cut loose" and tap into that awesome "unpredictable and out-of-control" side of your personality??
You know, that side you feel brewing beneath the surface and when you've seen it "flicker," people have been drawn to you INSTANTLY (it's so instinctive you might as well call it a "stimulus-response").
Be honest with me here.
I want to know…
...have you ever felt a "spark" of something more RAW inside yourself, a dimension of your personality that you KNOW is as legitimate (if not more) as every other, but for some reason society has taught you to suppress??
…have you ever felt like you were "holding something back" and that there might be a "primal" element you were BORN WITH, which if you had the ability to "tap into" would have people flocking towards you in droves??
…have you ever had the desire to just rip the chains off and PUT YOUR FULL PERSONALITY out there and be the COMPLETE and ATTRACTIVE person that you know you're meant to be??
Alright well here's the next big question then…
What if these brief "flashes" of pure glory were something that you managed to unleash consistently on a daily basis??
What if you had FULL CONTROL over this, and it became an integral part of WHO YOU ARE??
Think about what your life would look like. The type of ridiculous success you'd be getting for yourself if you could just DO IT.
Well, I happen to know a guy who's tapped into this side of himself on an EXTREME level…
This is a guy who is so dangerously effective that he walks into his favorite places and the staff will just chuckle and shake their heads because they KNOW the frenzy that's about to ensue.
And guess what? YOU know this guy as well. You've been reading about his adventures in the notorious RSD newsletter for the last five years.
The man we're talking about here is Jeffy. And he has something very important he wants to teach you. An urgent "correspondence" that he needs to get off his chest…
The Legend Of Jeffy: In Any Industry Insider's
"Top 5 In The World"
If this Author or Course helped you improve your life. It is really worth it if you go and buy his/her course. Get feedback, support and help by his/her community. The Author support is much more valuable than the course itself.

If our Site

helped you

as well. A small Donation is greatly appreciated.