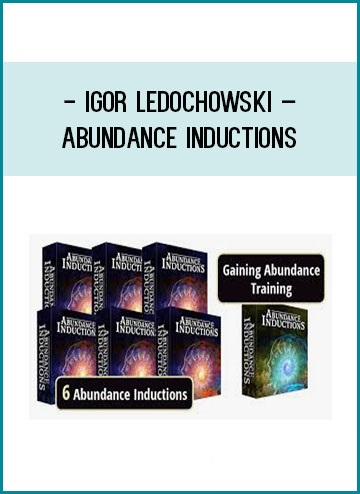 Igor Ledochowski - Abundance Inductions
I Will 'Dissolve' The Unconscious Inner Blocks That Are Stopping You From Enjoying Automatic Abundance In ALL Areas Of Your Life"
Take the 35-day challenge.
If you would like to have all your subconscious self-sabotage, limiting, negative and painful programs "dissolved" -- so you can quickly and easily start enjoying automatic abundance (in all areas of your life) – then this program was designed for you. (with over 15 years as a hypnotherapist, coach and mentor to 10's of 1000's of students globally)
All you have to do is enjoy these specifically selected and designed abundance audios while you lie down and allow these powerful hypnotic instructions to dissolve all the limitations that are stopping you from automatic abundance.
There are 10 handpicked audios (plus instructions) for you to listen too, as many times as you want. Whenever you want.
In fact, many people choose to "jump-start" their day by listening to an audio Abundance Induction when they get up in the morning.
Then they just go about their day as normal (doing all their normal things) -- except suddenly they are noticing... A new-found energy And
opportunities falling into their lap.
What will you notice?
Well, it's impossible for me to say for sure. All I can say with complete conviction is if all you do is know what you want to improve and then just listen to all of the Abundance Induction a day for 35 days you will experience one or more of three things:
How you feel about your situation (the thing you wanted to improve or change) will be completely new and much more positive. You will see things in a completely "new" light.
Your situation will be unfolding in a way that you can see positive changes taking place. And you won't feel like you're struggling to make those changes either. They'll seem to be happening naturally just like water flowing down a stream.
Your situation will have completely resolved itself. Perhaps you will have landed a new job. Been given money to pay off a bill. Or perhaps been given an opportunity to take part in something you've always wanted to do. Whatever "it" is, it will have fallen into your lap.
But don't just take my word for it. Prove it for yourself with the Abundance Inductions.
Who this course is for:
Hypnotherapists
Coaches
people interested in personal development
People interested in hypnosis
People interested in healing
People interested in the mind
If this Author or Course helped you improve your life. It is really worth it if you go and buy his/her course. Get feedback, support and help by his/her community. The Author support is much more valuable than the course itself.

If our Site

helped you

as well. A small Donation is greatly appreciated.