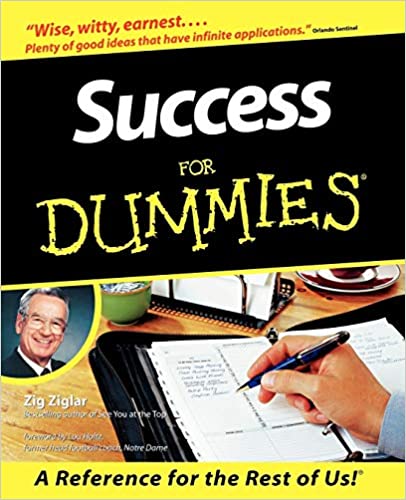 Zig Ziglar - Success for dummies
Zig Ziglar has inspired and motivated hundreds of thousands of people the world over, through his wildly popular seminars and bestselling books and audiotapes. One reason for Zig's continuing popularity is that his message is so simple and obvious once you've really heard it: success isn't just about how much money you make or what you own, it's a matter of personal fulfillment and the quality of your relationships–with your co-workers and customers, family, friends and neighbors, and especially with yourself. Another reason Zig is one of today's most sought-after motivational speakers and trainers is that his formula for success is so easy to understand and put into practice–and so effective.
Success For Dummies is a gold mine of startling insights and practical pointers on achieving success. No matter what your station in life, it can quickly put you on the road to the success you want and deserve. With wit, warmth, and loads o f practical wisdom, Zig Ziglar helps you:
Find greater job satisfaction
Increase your income
Supercharge your career
Map a clear road to the top
Nurture good relationships at home and work
Earn the trust and admiration of everyone in your life
Find direction, purpose, and greater fulfillment
Packed with inspiring anecdotes and real-life success stories, Success For Dummies explores how your success is determined by the quality of your relationships. It helps you to improve communications with those who matter in your life. And it offers Zig's proven prescriptions for:
Understanding what you really want out of life
Setting clear, realistic goals
Getting motivated and maintaining a positive outlook
Developing a strategic plan and putting it into play
Measuring your progress with Zig's ten benchmarks
Achieving and maintaining optimal physical, emotional, and spiritual health
Developing fantastic friendships and a lifelong romance with your spouse
Building better employer/employee relationships
Making success a lifelong habit
Overflowing with the down-to-earth wisdom and can-do spirit that has inspired thousands of Zig Ziglar fans the world over, Success For Dummies is your blueprint for success.
If this Author or Course helped you improve your life. It is really worth it if you go and buy his/her course. Get feedback, support and help by his/her community. The Author support is much more valuable than the course itself.

If our Site

helped you

as well. A small Donation is greatly appreciated.