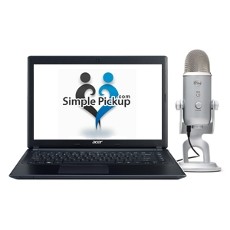 The Simple Pickup System - Project Go
The Simple Pickup System is a guide that compliments Project Go, a series of videos by Simple Pickup teaching techniques in cold approach pickup. The Simple Pickup System is the guide that puts all the videos together, so that you know exactly what to do.
Project Go teaches you what the first thing a guy should say/do, the step-by-step process of seeing an attractive girl, talking to her and then eventually sleeping with her Creating attraction when it feels like she wants nothing to do with you How to ask for the date, and how to you follow-up.
Project Go is a great knowledge base and this is a step by step system that walks you through it all, from A-Z. Literally, from the first thing you should say to her, depending on the situation, to getting her number, to what to do on a date There is no ambiguity, you'll know exactly what to do, at every moment.
Everybody needs a little refinement.We will show you to how to confidently approach, interact and atract women. No douchbaggery, no cringe-worthy formulas. Garanteed. You will get the lady of your dreams by simply being your awesome self. Trust us.
If this Author or Course helped you improve your life. It is really worth it if you go and buy his/her course. Get feedback, support and help by his/her community. The Author support is much more valuable than the course itself.

If our Site

helped you

as well. A small Donation is greatly appreciated.