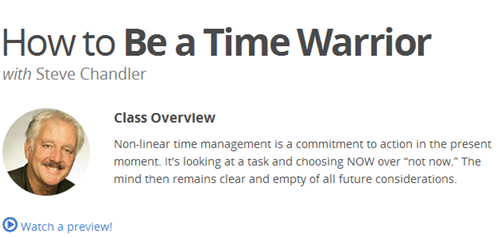 Steve Chandler & Entheos Academy – How to Be a Time Warrior
Non-linear time management is a commitment to action in the present moment. It's looking at a task and choosing NOW over "not now." The mind then remains clear and empty of all future considerations. (Check out the Top 10 Big Ideas from the class below!)
Your Professor
Steve Chandler is a master coach to top level professionals and coaches. He is the author of 30+ books that help people overcome their fears, master their time, and astonish through service.
How to Be a Time Warrior
Choosing to be a time warrior gives you ways to leave linear modes of time management behind. It frees you up to enjoy going non-linear.
What is non-linear time "management"?
Non-linear time management is a commitment to action in the present moment. It's looking at a task and choosing NOW over "not now." The mind then remains clear and empty of all future considerations.
In non-linear time management there is no line extending from my mind into the future. No segmented tapeworm of unfinished business coming out of my psyche.
The old-fashioned time management programs had a huge, burdensome focus on the future. The line of tasks stretched out forever. It was soon fear-based and overwhelming to have so much of a future to carry around with you.
It resulted in massive, pathological procrastination. Everything got put off in the name of perfectionism. The future soon became the perfect time to do everything!
Nothing was bold or joyfully created anymore.
When you learn to go non-linear, a strange thing happens.
New life and energy come in. Life becomes a great game and everything important is handled right now on the spot. Like a ball coming over the volleyball net.
All fear comes from picturing the future. Putting things off increases that fear. Soon we are nothing but heavy minds weighing down on weary brains. Too much future will do that. Only a warrior's approach will solve this. A warrior takes his sword to the future.
Linear time starts with your birth and ends (at the end of the line) with your death.
If this Author or Course helped you improve your life. It is really worth it if you go and buy his/her course. Get feedback, support and help by his/her community. The Author support is much more valuable than the course itself.

If our Site

helped you

as well. A small Donation is greatly appreciated.